LIGNEX HIGH SOLID
HIGH SOLID WOOD PRESERVATIVE
For extreme conditions – Lignex High Solid is a protective wood preservative with a high resin content for wood exposed to extreme climatic conditions. Its special solvent-based formula penetrates deeply with only 2 coats and creates a film which acts as a barrier against damp and rain. Lignex High Solid also gives wood an elegant and warm satin finish.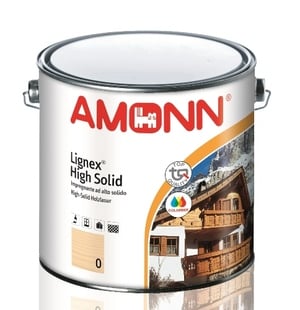 CHARACTERISTICS AND APPLICATION
Partial dimensional stability
COLOURS
Product information
Features
Protects the wood
Leaves the pores of the wood open and controls the exchange of moisture between the wood and the air
Special UV absorbers provide excellent protection against sunlight
High yield, easy to use
Free from aromatic compounds
Creates a pleasant wax effect
Penetrates wood deep down
The application of two coats delivers the same result as three coats of ordinary impregnating treatment
The high percentage of dry residue, about 70% by weight, made possible by new high solid alkyd resin technology, ensures less environmental impact
Applications
Impregnating treatment for wood, including wood with dimensional stability but not in direct contact with the soil or with water, to be used for example on coverings, balconies, doors and windows (outdoors), wooden buildings, pergolas and wooden structures in general.
Drying time
After about 16 hours depending on the type of wood
Yield
15-18 m²/l per coat
Packaging
0.750l – 2.5 l – 5l – 20l
Colormix: 1 l – 2.5 l
Recommended treatments
2 x Lignex High Solid
For biological protection a protective primer such as Lignex Grund BPIv should be used.
Colours: for production purposes some colours on the chart may be made using the Colormix system.
Colours thus obtained may differ slightly from the ready-made shades.
A colour test should always be done when work is continued.
Documents
SAFETY DATA SHEET AND CERTIFICATES