AMOTHERM WOOD WB
SINGLE-COMPONENT WATER-BASED FIRE-PROOFING VARNISH FOR FIRE-PROTECTION OF WOODEN ELEMENTS
Coloured reactive (intumescent) varnish for the passive fire-protection of items made of wood and its derivatives, fitted to walls and ceilings (stands, scenery, etc.) in indoor environments and not subject to mechanical stress.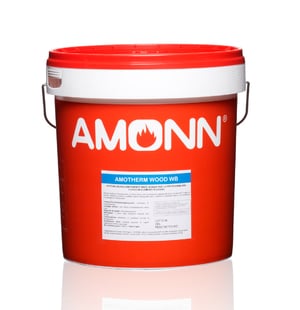 CHARACTERISTICS AND APPLICATION


Product information
Technical features
Once in place it looks like a normal varnish
Single component
Easy to use
A very slight initial odour, odourless once dry
Applications
Single-component, water-based varnish for improving the reaction to fire of items made of wood or its derivatives, fitted to walls and ceilings in indoor environments and not subject to mechanical stress but subject to abrasion and foot traffic.
Drying time
6 – 12 hours at surface
24 – 48 hours at depth
Consumption
Without a protective topcoat 400g/m2
With a protective topcoat 350g/m2 of Amotherm Wood WB then 80g/m2 of Amotherm Wood Top WB
Recommended treatments
Amotherm Wood WB in multiple coats to reach the prescribed quantity
1 x Amotherm Wood Top WB (optional, for coloured finishes)
Packaging
5 – 20 Kg
Certifications
Rated Class Bs1d0 according to EN 13501 – 1
Tested according to EN 13381-7, EN 13823 and EN 11925 – 2
Rated Class 1 according to UNI 9796/90
Find out more about ETHIC GREEN project
Documents
SAFETY DATA SHEET AND CERTIFICATES
functional specification modules
AMOTHERM WOOD WB
Supply and application of Amotherm Wood WB water-based intumescent paint (white treatment) for protecting load-bearing wooden structures from fire. The fire proofing treatment must be carried out by spraying, brushing, using a roller or with an airless pump, applied at any height, either vertically or horizontally and/or at any angle.
The preparation varies according to the type of surface to be treated. More specifically:
New raw timber surfaces must be cleaned of any impurities, particularly if they are made of exotic wood, and washed down with nitro thinner to eliminate any resin.
Old, previously varnished wooden surfaces should be thoroughly sanded down to remove paint residues that are not perfectly anchored to the surface.
The quantity of intumescent paint to be applied to the various wood surfaces to be protected will depend on:
the fire-resistance class required (R) the section of the individual elements making up the structural framework to be protected
actual load conditions, light and span lengths
the type of exposure to fire of each of the structural elements and their type (pillar, beam, etc.)
the type of wood (solid or laminated)
Assessing the protective measures to be taken and determining the thickness to be applied must be carried out based on the contents of the evaluation reports prepared in accordance with the methods laid down in standard EN 13381-7. Intumescent paint with environmental certification EPD according to ISO EN 14025 and EN UNI 15804 (environmental label type III) as required by Article 34 of the new Public Contracts Code defined by Legislative Decree No. 50 of 18-04-2016 and updated by Legislative Decree No. 56 dated 19-04-2017.
Costs of materials and application by airless spray (excluding scaffolding and any preparation of the surface):
Amotherm Wood WB: € 8,00/m2 (400 g/m2)
Amotherm Wood WB: € 11,00/m2 (600 g/m2)
Amotherm Wood WB: € 13,00/m2 (800 g/m2)
Download application specifications in PDF format