Stufex R 1600
PARQUET VARNISH
The ideal home varnish – Water-based single-component acrylic-polyurethane varnish. An attractive look combined with the lowest possible presence of volatile organic substances make this varnish perfect for home environments.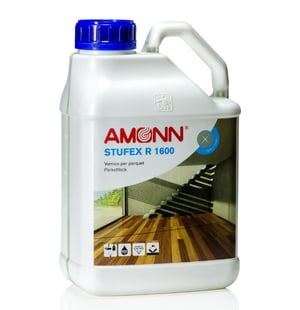 CHARACTERISTICS AND APPLICATION

GLOSSLEVEL
Product information
Technical features
Gives wood an attractive finish
Evens out and tones in with the natural wood colour
Highly elastic
Suitable for floors subject to normal stress
Applications
Recommended as a varnish for parquet laid in residential environments not subject to heavy use, such as bedrooms, living rooms, etc. Can also be used as a protective treatment for wood elements requiring good stain and scratch resistance, such as benches and tables.
Drying time
Dry to the touch 30'
Dry in 4 hours
Can be sanded down in after 12 hours
Yield
80 – 100 g/m2  
Recommended treatments
1 x Stufex R 1551
1 x Stufex R 1600 or 3 x Stufex R 1600  
Packaging
5 Kg
Documents
SAFETY DATA SHEET AND CERTIFICATES