Cloe Maranta
Brilliant water-based impregnating agent with natural resins
CLOE MARANTA is a water-based wood protective and decorative impregnating agent, based on natural resins and free of added solvents and volatile organic compounds. Applied in several coats, it resists weathering and its brilliant formula creates a pleasant wax effect. It penetrates wood, does not film or crack, but wears off evenly over time.
DID YOU KNOW… Maranta is the name of an evergreen, decorative and purifying plant. Native to South America, in addition to its ornamental qualities, it is valued for its ability to absorb and remove various harmful substances from the air.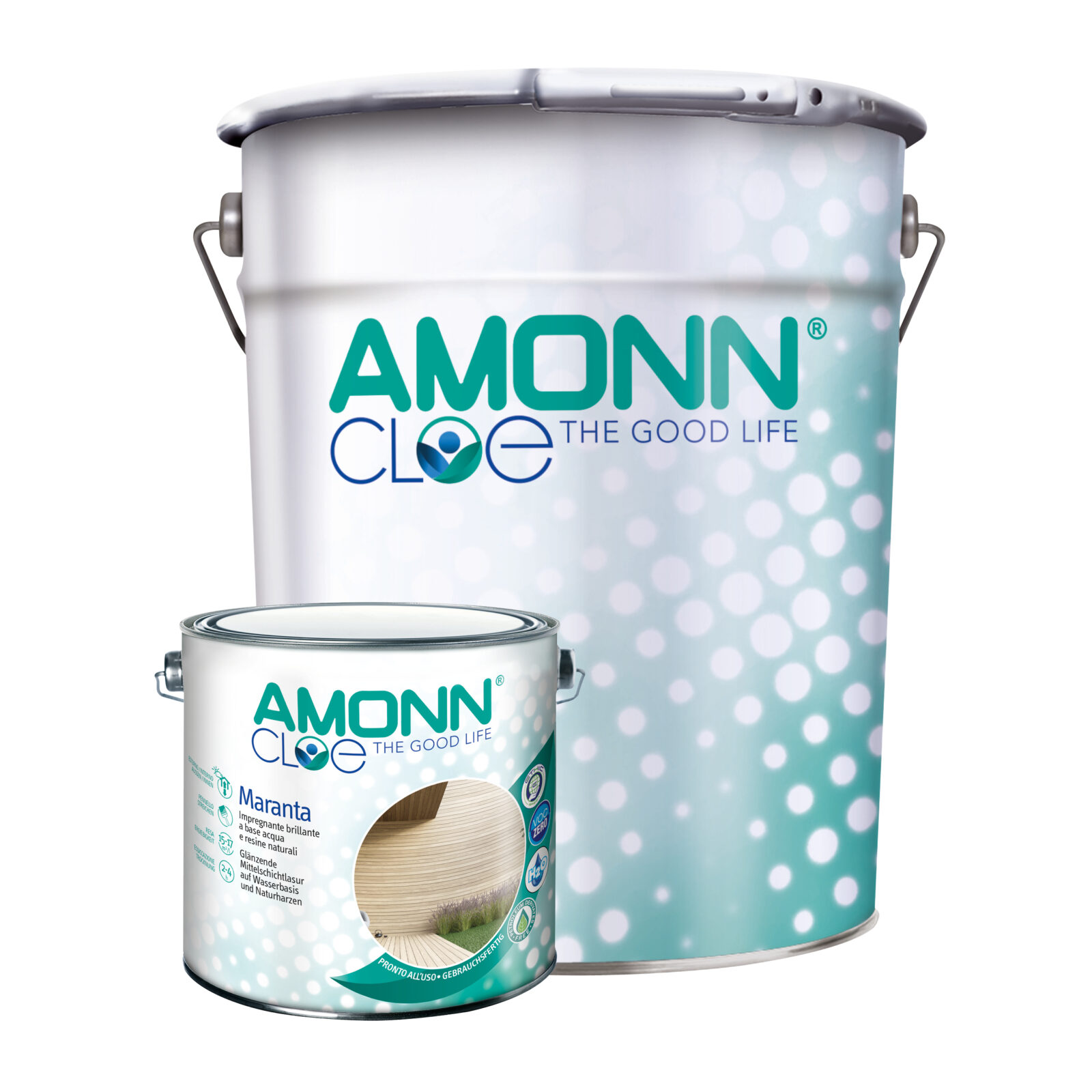 CHARACTERISTICS AND APPLICATION
COLOURS
Product information
Features
Protects wood
Multiple coats give a brilliant waxed effect
Offers good weather resistance
Penetrates deeply, does not film or crack
Easy to use without colour streaks
Leaves the pores of the wood open and controls the exchange of moisture between the wood and the air
Contains active ingredients to protect the film from micro-organisms
Applications
For treatments on wood not in direct contact with the ground or water in indoor and protected outdoor environments. Ideal for application by hand without the problem of streaks forming, it can also be applied using an impregnating machine. For wood completely exposed to weathering, weather protection needs to be increased with CLOE ALICANTO.
Total declaration of raw materials
Water, vegetable resins, tung oil, borates, casein, soya lecithin, attapulgite, sodium hydroxide, iron desiccant and IPBC. Depending on colour: kaolin, iron oxides, bone black, titanium dioxide, aluminium magnesium silicate.
FREE FROM: acrylic, polyurethane, vinyl and alkyd resins of petrochemical origin.
Total VOC (volatile organic compounds) declaration
Non-film-forming impregnating agents for wood (cat A/f) according to Directive 2004/42/EC. The EU limit value for this product is 130 g/l. This product contains 0 g/l VOC.
Drying time
Approx. 2– 4 hours, depending on the type of wood.
Yield
15 – 17 m²/l, per coat depending on the wood absorption
Packaging
0.75l  – 2,5 l – 5 l – 20 l
Colours
S21 honey; S10 light walnut; S03 chestnut; S14 Douglas; S04 walnut; S34 dark walnut; S81 pearl grey; S86 quartz grey; S82 antique grey; T51 matt white; S71 light white; S91 pure white
Also available in "S00 colourless"