MONOKOTE MK6-S
LIGHTENED FIRE-RESISTANT PLASTER, TO INCREASE THE FIRE-RESISTANCE OF STEEL, CONCRETE AND MIXED STRUCTURES
Lightened fire-resistant plaster with the addition of special fire-resistant components, for the passive fire protection of steel, concrete, mixed steel and concrete structures and corrugated sheet metal roofs.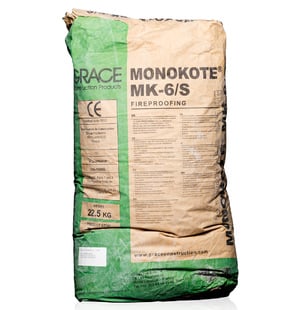 CHARACTERISTICS AND APPLICATION
Product information
Technical features
Spray-on plaster
Ultralight
Easy to use
High yield
Ready to use and quick to apply
Applications
Specifically designed for the fire-protection of structures in steel and concrete. Particularly suitable for use on such structural elements as beams, columns, roofs and structures made of a mix of steel and reinforced concrete.
Consumption
Depends on the structural element to be protected and the technical performance required.
Recommended treatments
Enough coats to achieve the required thickness.
Packaging
22,5 Kg
Certifications
Rated according to EN 13501 – 2
Tested according to EN 13381 – 3
European Technical Assessment ETA 10/0082
Documents
SAFETY DATA SHEET AND CERTIFICATES
functional specification modules
MONOKOTE MK 6/S
Supply and application of Monokote MK 6/s fire proofing plaster for the protection of reinforced and prestressed reinforced concrete structures from fire. The fire proofing treatment must be carried out by application with a plastering machine, applied at any height, either vertically or horizontally and/or at any angle.
The preparation of the under-surface will vary depending on the type of surface to be treated. More specifically:
new structures must be cleaned of any impurities;
existing structures with old paint must be thoroughly cleaned to eliminate any paint residues that are not perfectly bonded to the surface, and then treated with Amotherm Brick Primer WB.
The quantity of Monokote Mk 6/s fire proofing plaster to be applied to the various elements to be protected will depend on:
the fire-resistance class required (R/REI) • the section of each structural element and its type
concrete cover values and type of reinforcement (ordinary and/or prestressed)
actual load conditions
the type of exposure to fire of each of the structural elements.
For indoor applications, where there is damp and heavy condensation, we recommend applying Amotherm Brick Top WB acrylic topcoat. Assessing the protective measures to be taken and determining the thickness to be applied must be carried out based on the contents of the evaluation reports prepared in accordance with the methods laid down in standards EN 13381-3.
Guideline cost of material and application (excluding scaffolding and any preparation of the surface):
Monokote MK6: € 10,00 /m2 (thickness 10 mm/m2 – This amount is net of any application waste, which can vary, depending on the type of structure, anywhere from 3% to 30%).